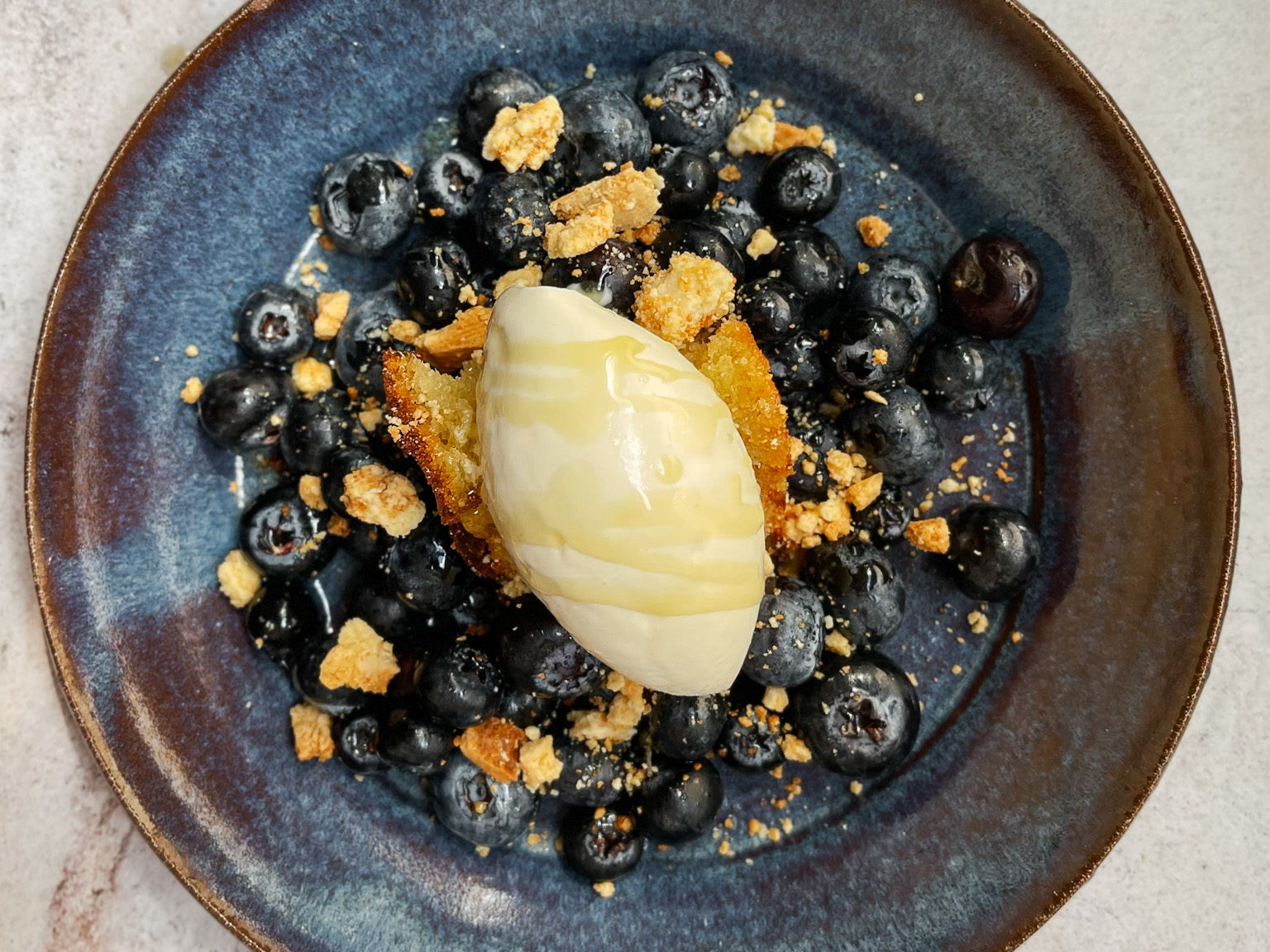 How fancy is too fancy? We challenged ourselves a bit and created this super fancy olive oil frozen yogurt recipe. But what's so fancy about it? Well, the frozen yogurt itself actually is not THAT fancy. Ist just greek yogurt, honey, and lots of olive oil. Yes, you've heard right, olive oil. This combination might sound weird at first, but trust us, it's divine. We then added an olive oil and white chocolate cake. The cake is fluffy and moist and not too sweet. We could stop here, right? Well, we didn't.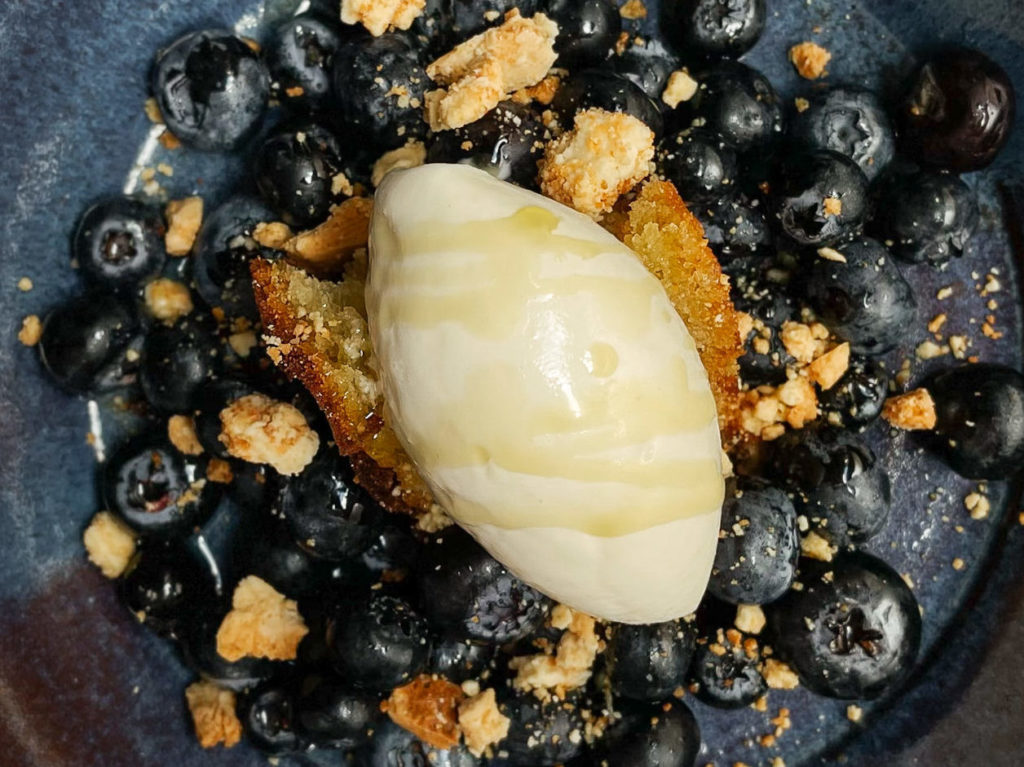 What if we told you that we caramelized white chocolate in the oven and we also made a thyme syrup? Too much effort? Actually not. Caramelized white chocolate is so easy to make, we're a bit surprised this method is not more common. Just take white chocolate, crumble it up on a baking sheet (add parchment paper or everything will stick like hell), and put it in the oven. The chocolate is ready when golden brown around the edges. The time can vary, depending on your oven. Just make sure to keep an eye on it to not burn the whole thing.
The syrup is even easier to prepare. Just add water and sugar and thyme to a saucepan and let simmer for ten minutes. Strain the thyme, let cool, done. Fancy has never been so easy.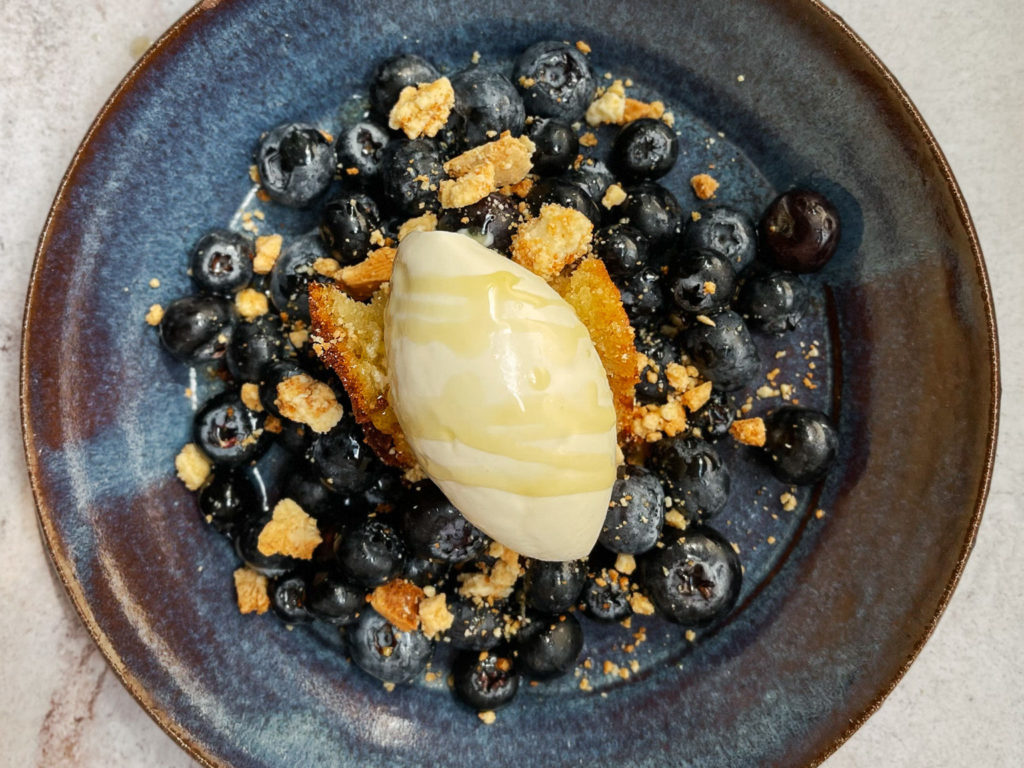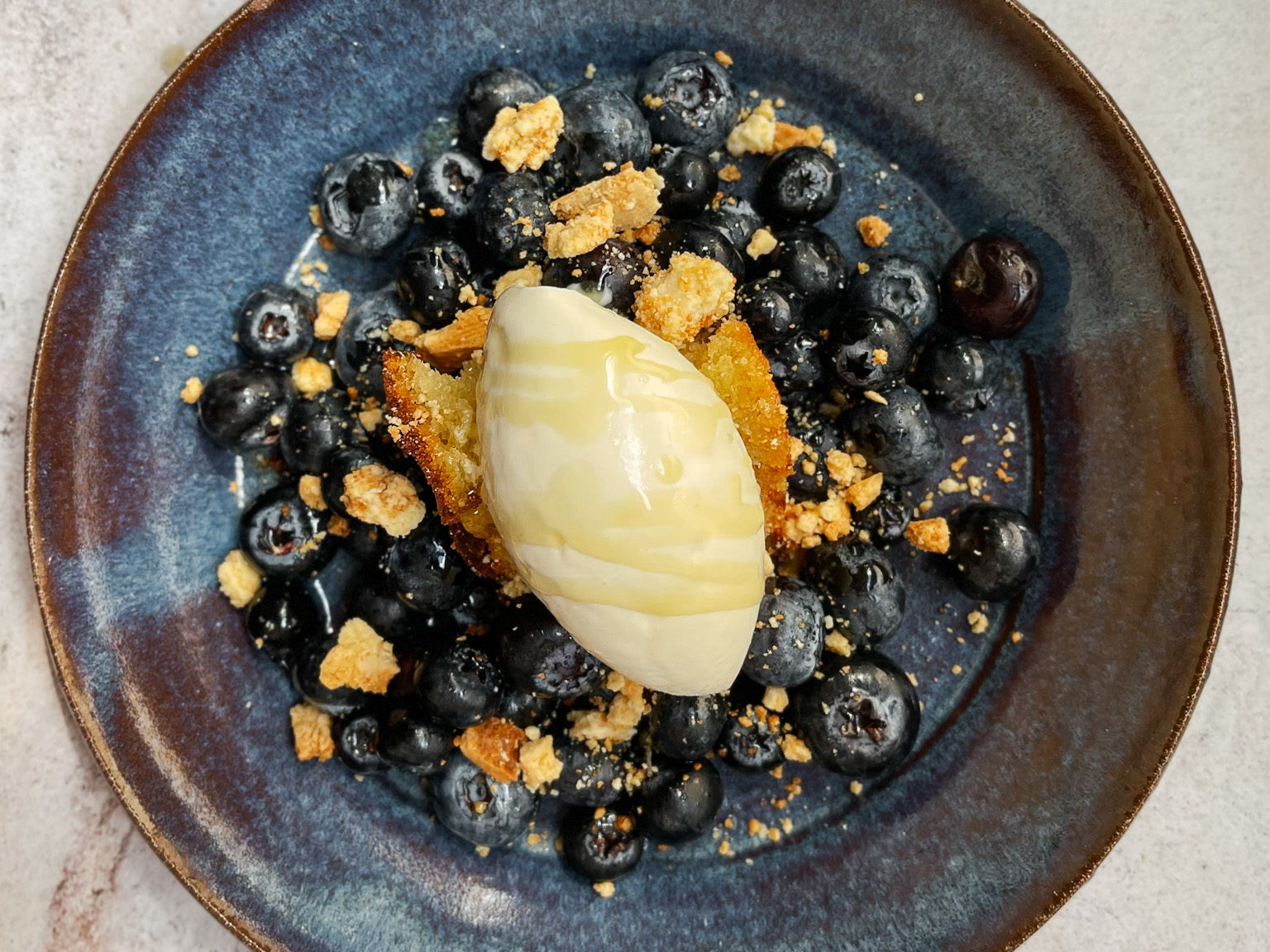 Fancy Frozen Yogurt With Olive Oil, White Chocolate, And Blueberries
Print Recipe
Ingredients
Cake:
200

g

white chocolate

chopped 150g olive oil (of course!)

130

g

joghurt

3

eggs

110

g

sugar

pinch

of salt

200

g

flour

10

g

baking powder

5

g

baking soda
Caramelized white chocolate:
100

g

white chocolate

chopped
Syrup:
2

sprigs lemon thyme

150

g

sugar

220

g

water

30

g

elderflower syrup

or fresh flowers, if in season
Frozen yogurt:
600

g

greek yogurt

10%

120

g

honey

50

olive oil

of course!!
To assemble (4 portions):
Instructions
Cake:
Preheat the oven to 170 degrees Celsius. Melt the white chocolate over a bain marie. Sift the flour, baking powder, and soda together.

In the meantime whisk eggs with sugar and salt until very fluffy and light in color. When the chocolate has melted, whisk the olive oil into it. Working quickly and carefully, whisk the joghurt into the eggs, then the chocolate-oil mix, then the flour, being careful not to over mix, folding the flour in instead of whisking to avoid deflating the mixture too much. Bake at 170 for about 25 minutes.
Caramelized white chocolate:
Place chocolate on baking paper, and bake at 160 for 8 minutes. Take out of the oven, mix with a spatula to get even browning, and return to the oven for another 5 minutes.
Syrup:
Bring sugar and water to a boil, add thyme and elderflower and remove from heat. Let it steep for 10 minutes, then strain and chill.
Frozen yogurt:
Whisk everything together, freeze in an ice cream maker. You can also freeze it in your freezer but make sure you stir it every 20 minutes so it gets nice and fluffy. You can also freeze it with an ice cube tray and blend it up in a power blender when fully frozen.
To assemble (4 portions):
Dress blueberries with the syrup. Cut or break 4 chunks of the cake, drizzle a bit of the syrup on them. Place a piece of cake, then the blueberries, sprinkle the caramelized white chocolate, then a scoop of frozen yoghurt. Finish with a drizzle of olive oil (of course!).