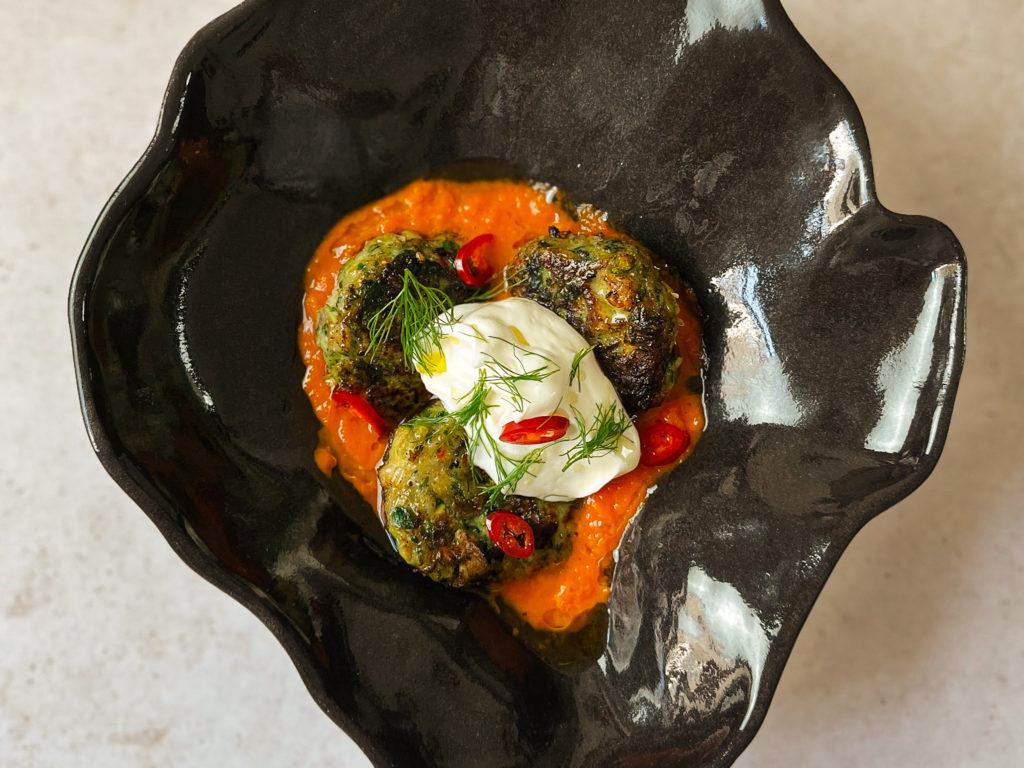 Fish cakes are highly underrated! Most people find them bland or dry and seem a bit outdated. But these fish cakes are different because we paired them with juicy tomato sauce and all the herbs. Lemongrass and chili add a lot of punch. They are the perfect bar snack, or you can serve them as a side dish when you're having a bbq with your friends or family.
The fish cakes are super tasty, hot or cold, perfect to prep in advance.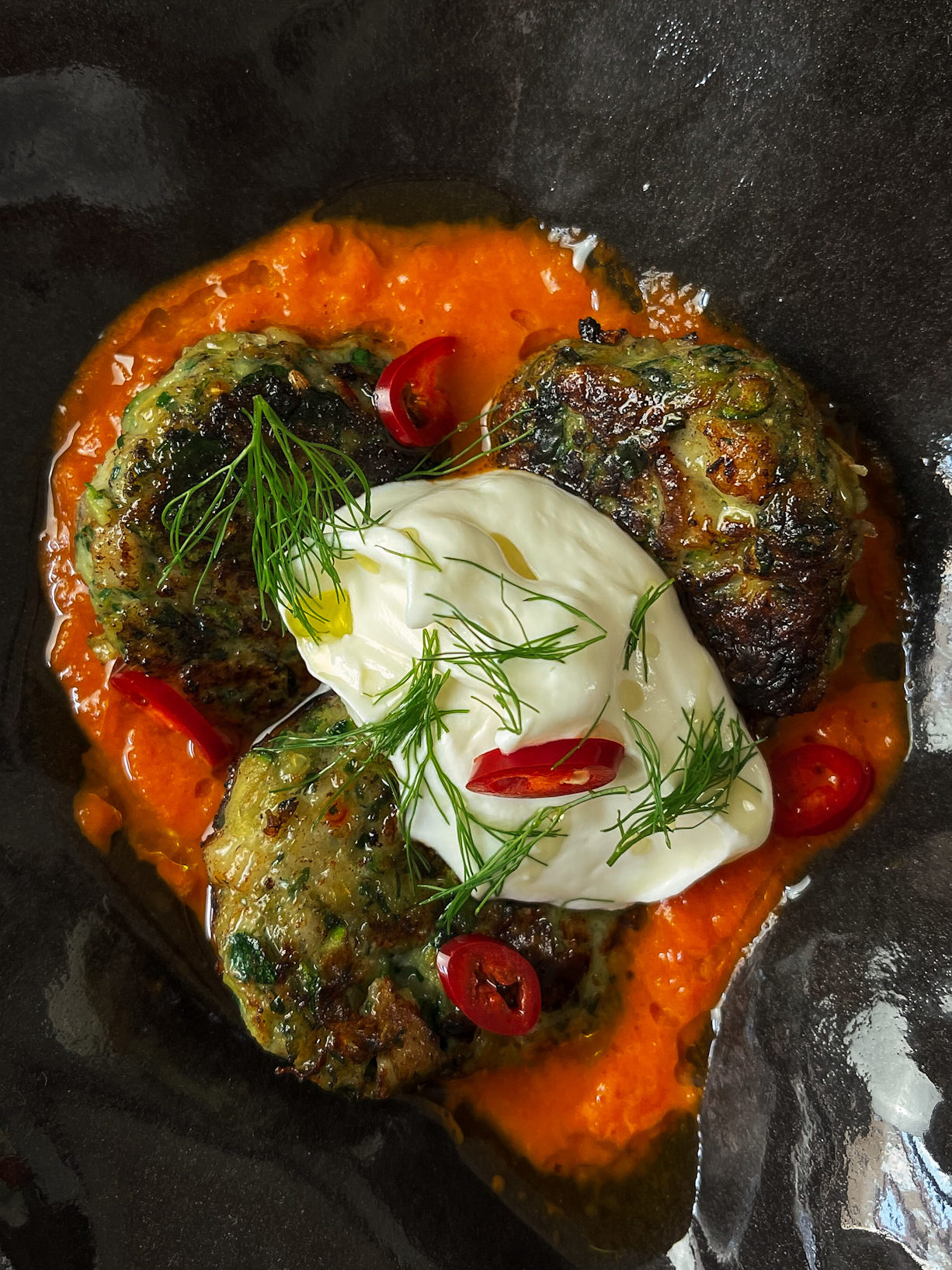 When amazing food meets amazing ceramics: We had the chance and privilege to collaborate with ceramics artist Jana Francke and use one of her plate prototypes for plating this dish. Jana creates the most amazing things with clay. Her plates and vases are so much more than just everyday objects. They almost seem organic or alienesque. Please check out her work and give her some love or even buy some ceramic pieces.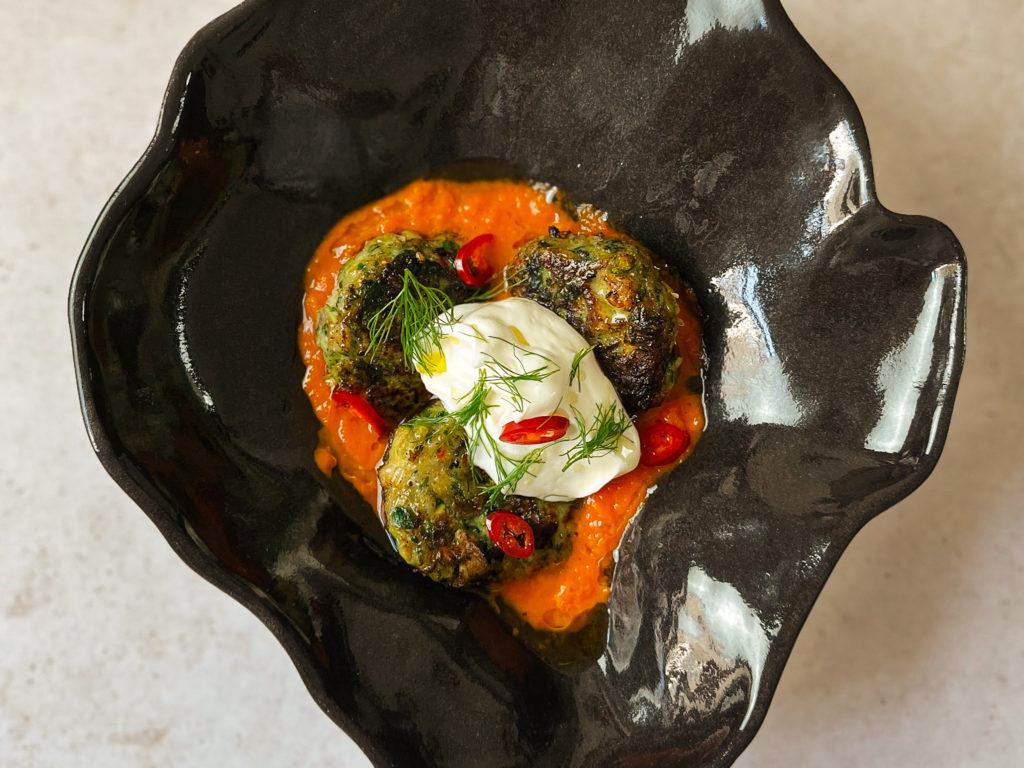 Fish Cakes With Tomato Sauce and Greek Yoghurt
Print Recipe
Ingredients
For about 30 Fish cakes:
500

g

fish fillet

we used pollock. Any firm white fleshed fish will do.

3

zucchini

grated

1

small red onion

peeled, and roughly chopped

50

g

parsely

a generous bunch roughly chopped, stalks reserved for the sauce

50

g

dill roughly chopped

stalks reserved for the sauce

2

stalks lemongrass

crushed and finely chopped (save the woody top parts for the sauce)

zest of one lemon

1

tsp

coriander seeds

1

⁄2 tsp cumin seeds

1

⁄4 tsp smoked paprika

1

⁄4 tsp cayenne powder

salt
For the sauce:
2

cans crushed tomatoes

2

garlic cloves

crushed but kept whole reserved stalks of parsley, dill, and lemongrass

olive oil

salt
To serve:
greek yogurt

chopped dill/fennel fronds/parsley sliced chili

optional

olive oil
Instructions
First, salt the zucchini and place in a colander. Leave it there for about 20 minutes to release moisture. Then, squeeze it very well to get it as dry as possible (you could reserve the salty zucchini juice for another use if you can think of any, let us know if you do).

In a food processor, blend half of the fish, onion, parsley, dill, lemongrass, lemon zest, and the spices, until it sticks together and separates from the sides. This means the protein will hold the fish cakes together as we are not using any eggs and flour/bread in these.

Cut the rest of the fish into small dices, this will add texture.

Mix the zucchini, blended fish and cut fish all together. With wet hands, form a small patty and fry it to test for seasoning. Once seasoned, you can continue rolling the rest into small patties. Sear the patties in neutral oil, about 2-3 minutes per side, till well browned and firm to the touch.

Make the sauce by heating some olive oil and adding the garlic. After about a minute add the tomatoes, salt, and herbs, let it simmer for about 15 minutes and check for seasoning, if it's still sour let it cook a little longer. Discard the herbs and garlic and blend the sauce until smooth.

To plate, add some of the sauce, a few fish cakes. spoon a dollop of yogurt, and sprinkle with chopped herbs, chili, and a drizzle of olive oil.
Have you tried the recipe? What do you think? Tell us in the comments below and make sure to follow us on TikTok and Instagram!