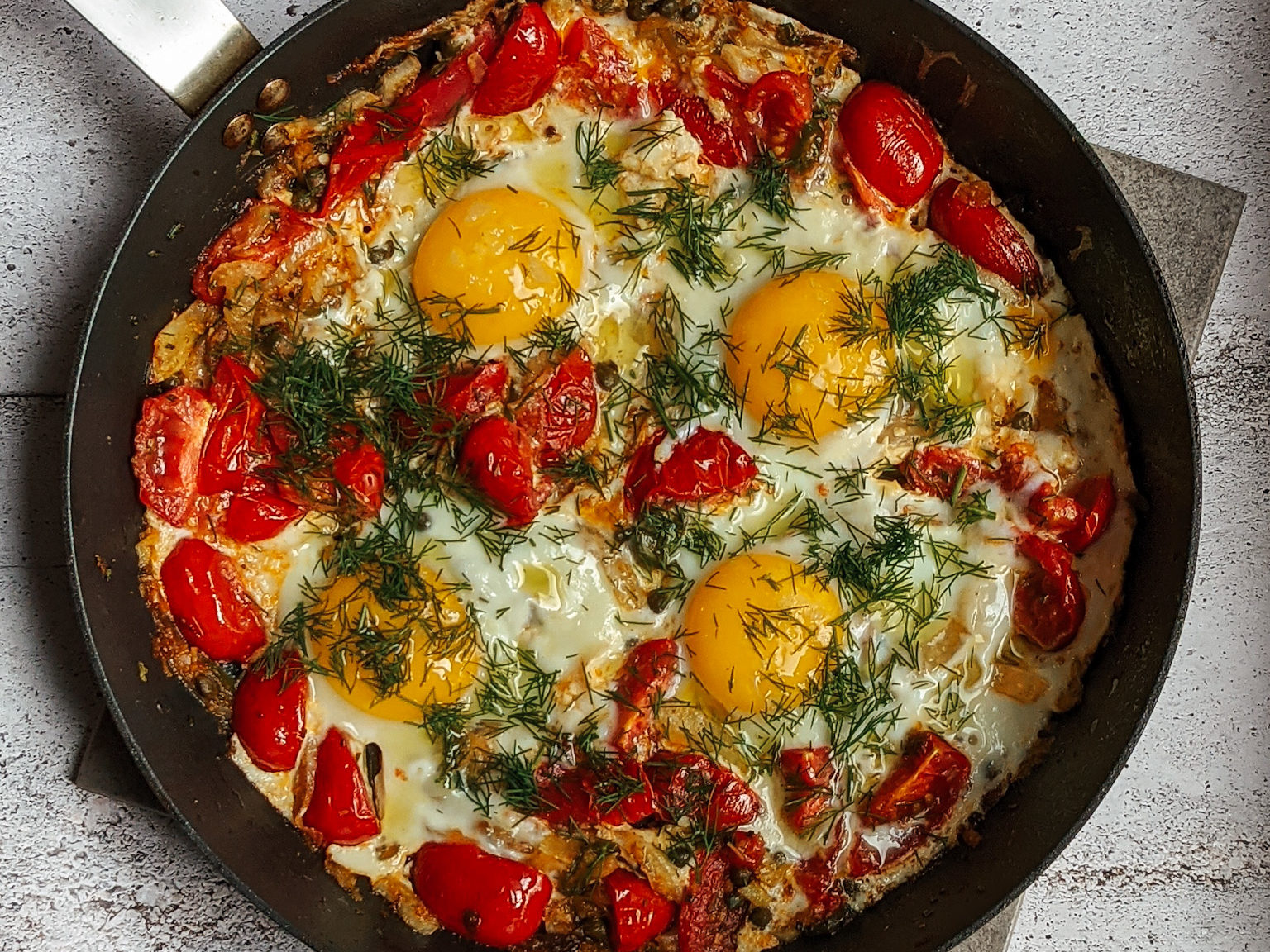 Shakshuka is taking over the world, and we completely messed with it!
This highly controversial perfection of an egg dish is originating from Tunisia (Or Morocco? Libya? Turkey?!). Traditionally consisting of tomatoes, peppers, onions, garlic, chili, topped with egg gently poached in this beautiful concoction. Some people even mix the eggs into the veggies, but we prefer not to think about them. There are countless riffs and versions: adding eggplant, feta, merguez. There's green shakshuka, white shakshuka, and even vegan shakshuka (with soy-polenta-turmeric 'eggs,' highly recommended).
This recipe, however, is not shakshuka. It plays on the general idea of protecting the eggs from direct contact with the hot pan by creating a vegetable buffer, allowing them to poach or steam rather than fry. Still, it's not as saucy as your typical shakshuka.
Honestly, it's simply a combination of all of our favorite ingredients, ones we almost always have in our fridge and pantry. We like our not shakshuka spicy with the addition of fresh (or dry) chili, but that's, of course, optional. Any other addition or subtraction is allowed, but we really feel this is already a magical combo and suggest you tried it as is.
The key is to get the eggs cooked just right, with runny yolks and fully set whites.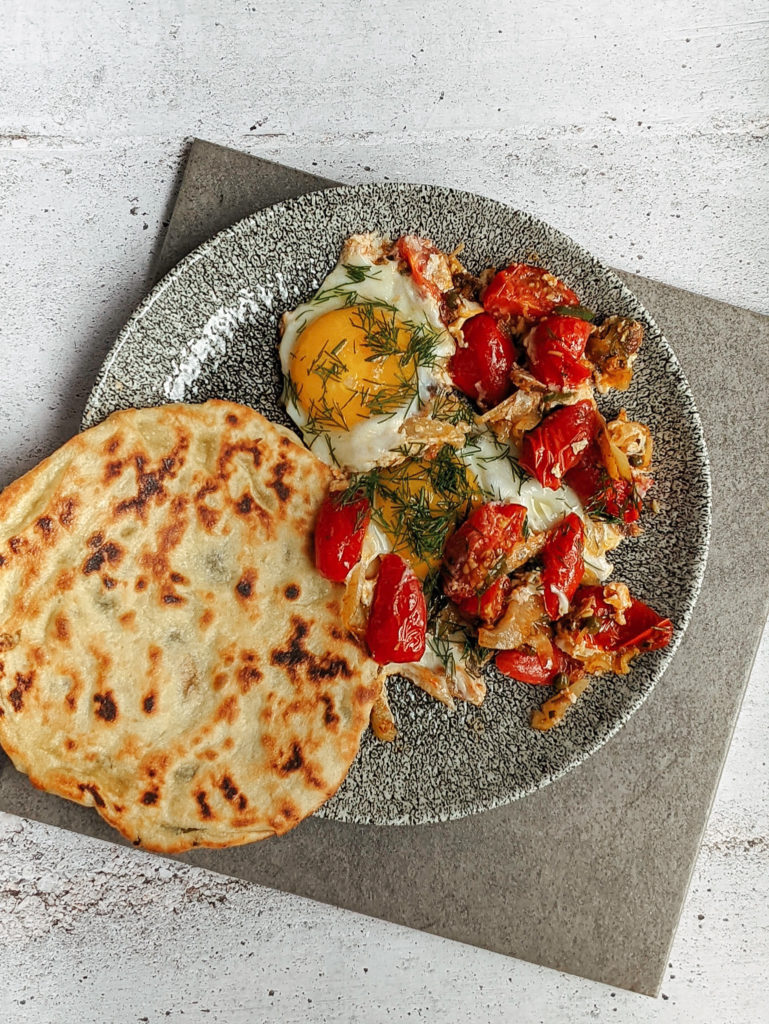 To do that, use a wooden spoon to spread the whites out. Continue doing that throughout the cooking process until you've eliminated every last elusive translucent bit. By that time, your yolks should be perfectly done. Another way is to use a lid, but this would often result in cloudy yolks and a more rubbery white, so we suggest you bravely try our method.
Ideally, we serve this with a soft and slightly sweet Challah bread, but a nice sourdough or even a pita will also do the trick.
Not Shakshuka
Print Recipe
Everything with eggs on it can be shakshuka, this one isn´t. Obviously.
Ingredients
4

eggs

10-12

cherry tomatoes

quartered

½

fennel

finely sliced

1

stalk

lemongrass

bashed and finely chopped

5-7

anchovy fillets

1

sprig

rosemary

stalk removed and leaves finely chopped

1

hot green chili

optional, but also not sliced

1

splash of

Pernod

or raki or ouzo

1

tsp

baby capers

or adult capers roughly chopped

Handful

chopped dill

olive oil

flaky salt
Instructions
In a large pan, heat olive oil, add the anchovy and break down slightly with a wooden spoon.

Add the rosemary, lemongrass and chili and saute for 1-2 minutes to infuse the flavours in the oil. Add the fennel and continue sauteing for about 3 minutes. Add the pernod and tilt towards the flame (or use a lighter if cooking on induction), continue cooking for 2 minutes after the fire has died down to soften the fennel. Add the tomatoes and capers, cooking for about 3 minutes longer to allow them to break down a little.

Lower the heat and break in the eggs, seasoning them with salt (the rest should be salty enough thanks to the anchovy).

Cook for about 5 minutes, use the spoon to assure no parts of white remain uncooked. You want cooked white and runny yolk (unless you want something else, but in that case you´re on your own). Finish with chopped dill and a drizzle of olive oil.
Have you tried the recipe? What do you think? Tell us in the comments below and make sure to follow us on TikTok and Instagram!