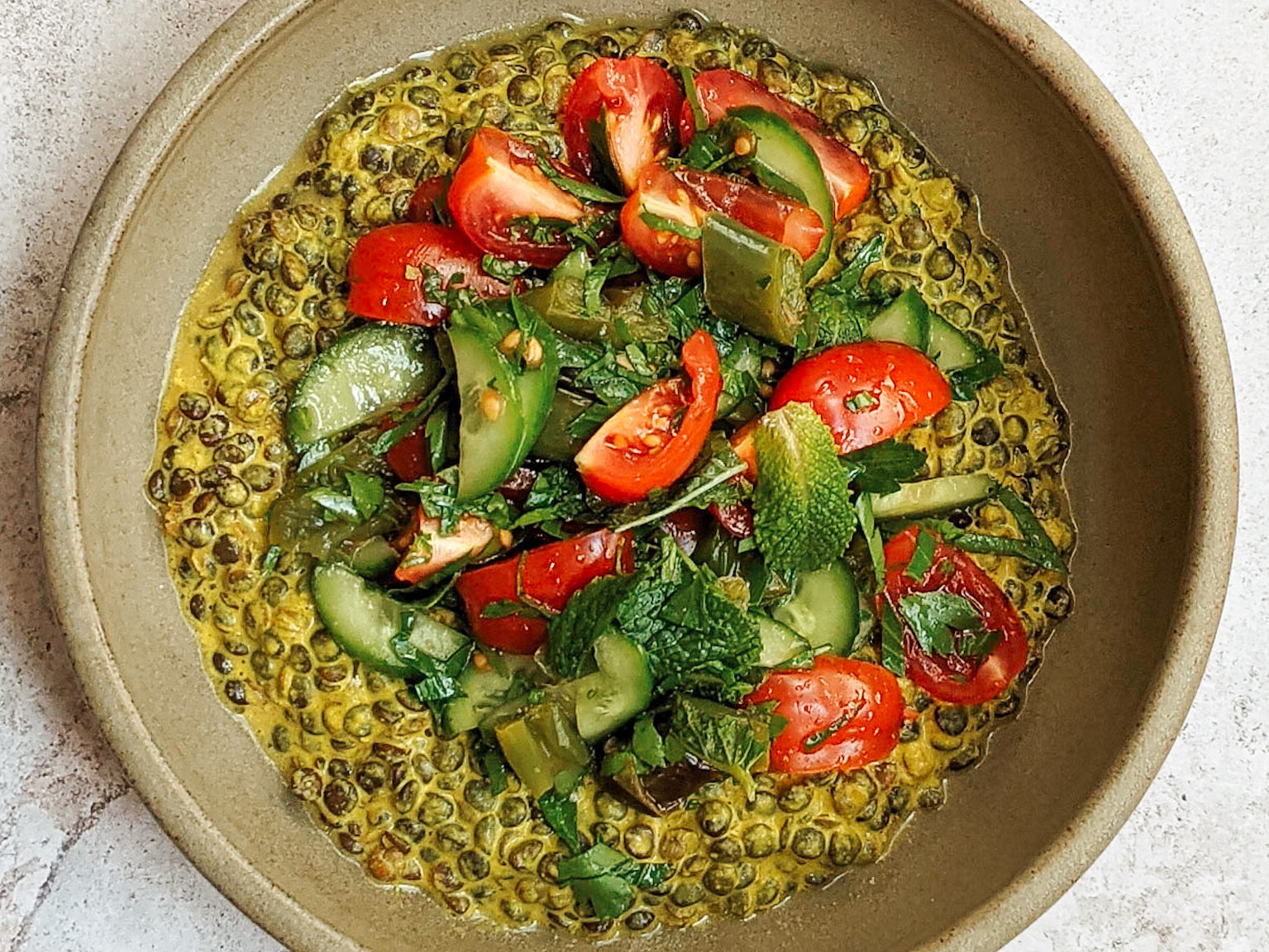 We usually like to keep things simple: simple jokes, simple pleasures, simple ingredients. This time, we took a different turn, though.
But vegan Beluga Lentil Salad doesn't sound super complicated, does it? Well, you'll actually need a weird ingredient to make this dish.
Amba is a strange, super pungent sauce made of fermented green mango and fenugreek.
It smells kinda funky, and the smell will last on you and in your apartment for three beautiful days. It's an acquired taste and a highly debatable topic in Israel (where Uri is from). You either love it or hate it – but you will probably love it. Mixing amba with tahini milds down the strong flavor without hiding it. It's a perfect match. But amba is a bit tricky to find. We had a very long, very emotional debate if we really want to publish this recipe. But it's just too good.
The earthy beluga lentils balance out the intense flavors of the sauce. Just make sure to not overcook the lentils. We want them creamy on the inside but with a bit of texture.
Lentils with a creamy sauce, this already sounds like a pretty good dish, right? We could totally stop here, but as always, we had to exaggerate a bit.
We like to combine creamy textures with a bit of crunch, to keep things interesting. This vegan beluga lentil salad is no exeption.
The fresh salad with tomatoes, cucumbers, and herbs gives the dish the freshness it deserves. The salad once again fits wonderfully into the category "looks fancy, but is really super easy to make." It's perfect for a (vegan) feast with friends or family and if you want to impress your folks with something they never tasted before. It goes perfectly with our flatbread.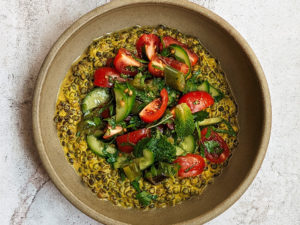 Vegan Beluga Lentil Salad
Print Recipe
Ingredients
For the lentils:
250

g

beluga lentils

1

garlic clove

crushed

1

pinch

salt
For the mago sauce:
100

g

tahini

30

g

amba

hot mango pickle

10

g

lemon juice

80

g

water

1

tsp

turmeric powder

1/4

tbsp

cumin powder
For the salad:
3-4

small cucumbers

halved and sliced 10-12 cherry tomatoes, quartered

2-3

green chilies

optional

3

sprigs of mint

sliced

2

handful

parsley

chopped

1/4

tsp

cumin powder

juice of 1 lemon

minus 10 g… olive oil

salt
Instructions
First, place the lentils and garlic in a pot and cover with a lot of cold water. Bring to a boil, then reduce heat to minimum. After 18 minutes, add salt, let cook for 2 more minutes, then strain. Discard the garlic.

Make the mango sauce by pureeing all of the ingredients till you reach a smooth thick consistency.

Mix the salad together.

When the lentils have chilled slightly, mix with the sauce, then top with the salad.
Have you tried the recipe? What do you think? Tell us in the comments below and make sure to follow us on TikTok and Instagram!